Enabling business process continuity for your hybrid SAP SuccessFactors landscape.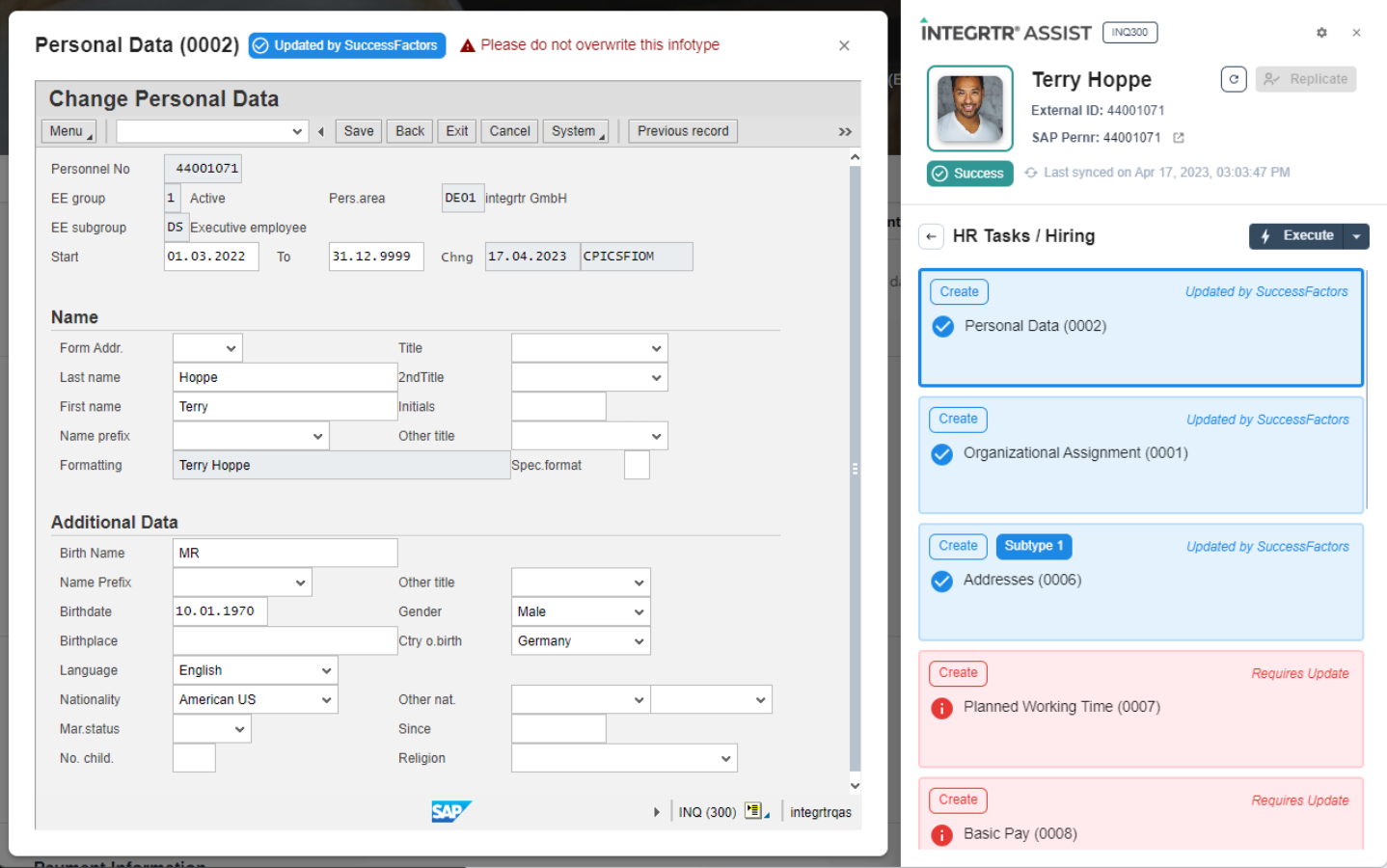 Blended Hybrid Experience
Eliminate the need to switch between your new cloud HR solution and legacy On-Premises solution for completing hybrid HR processes. INTEGRTR Assist brings the relevant SAP GUI screens to your SAP SuccessFactors saving countless hours for HR admins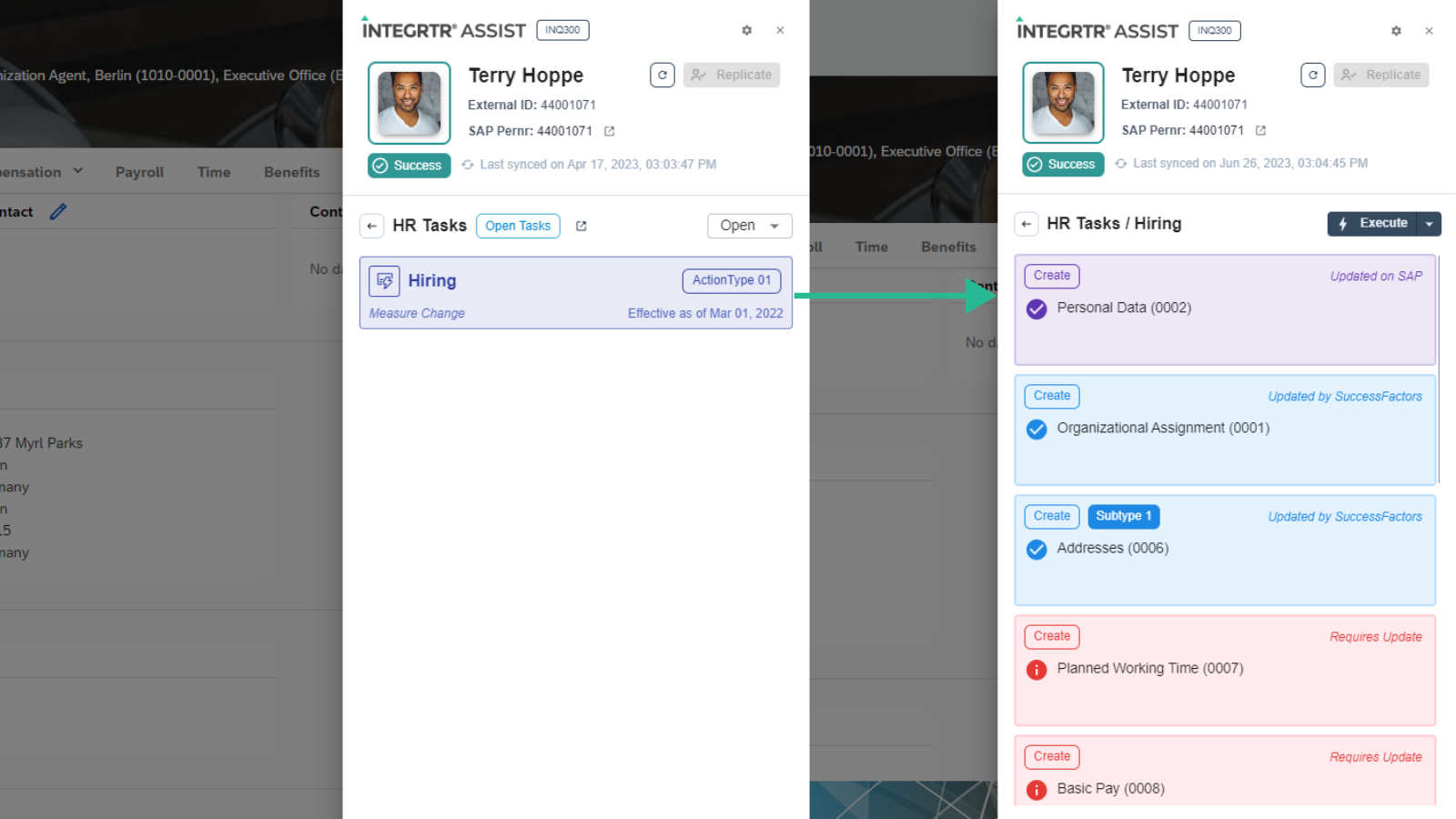 Complete Hybrid HR processes with ease
On a successful employee replication, INTEGRTR-Assist guides you to the next HR tasks that should be performed by HR Admins in your SAP HCM system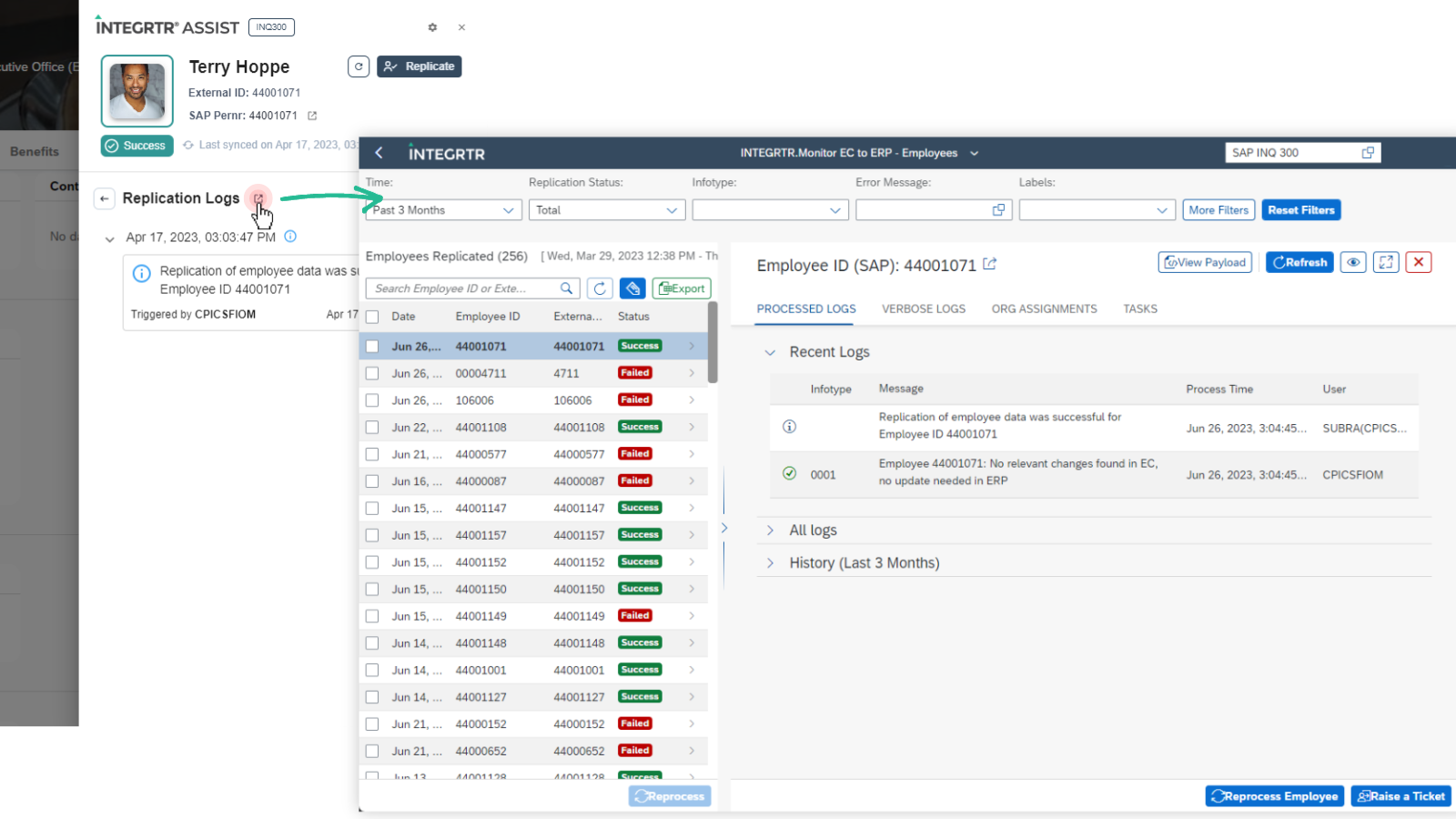 Analyse detailed logs on demand | Integration Monitoring
With contextual navigation to INTEGRTR-Monitor from INTEGRTR-Assist, you can dive into the details of the integration jobs and leverage the full benefits of your enhanced integration monitoring capabilities.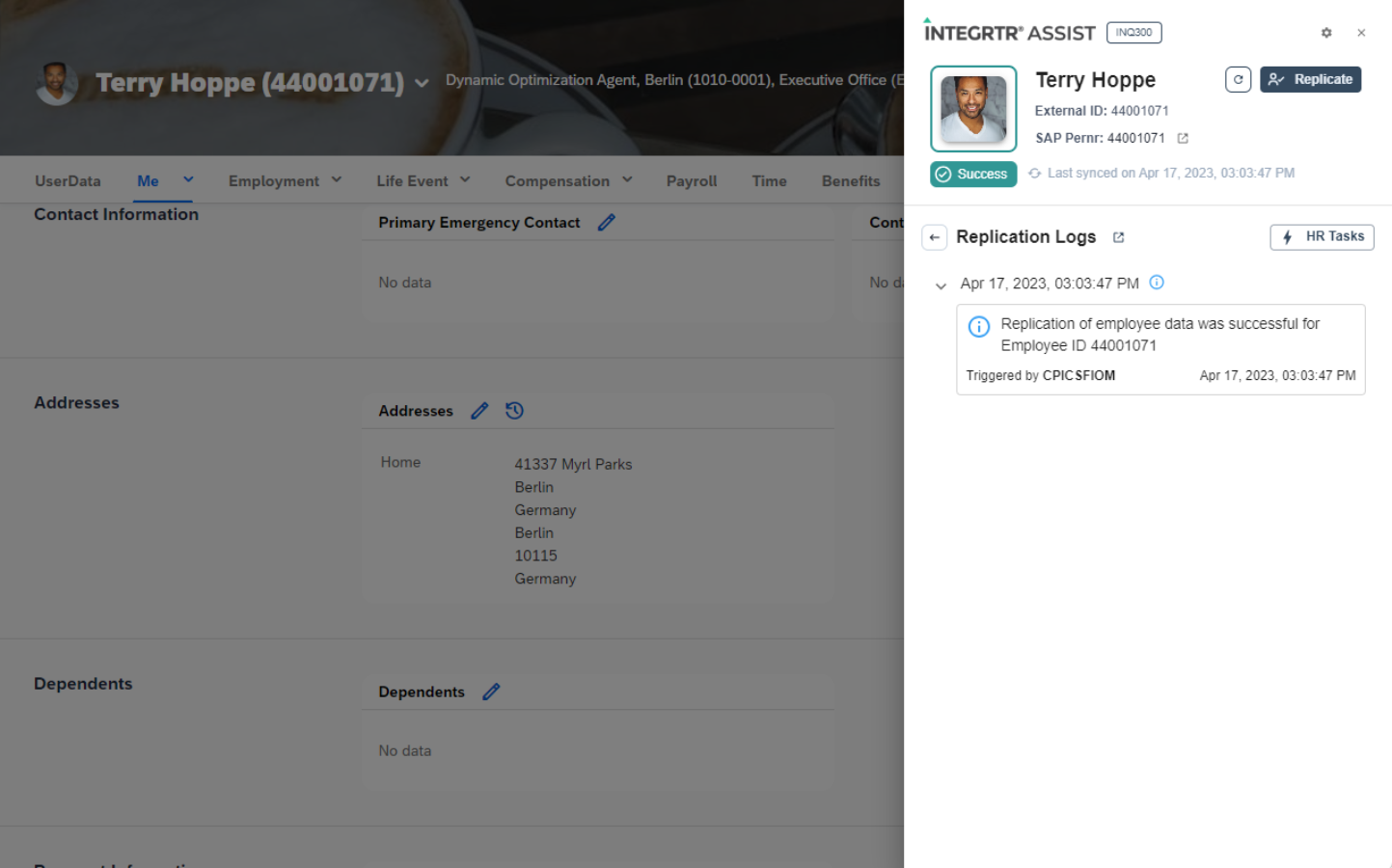 Discover latest employee replication status
INTEGRTR Assist brings you the latest information about your integration jobs to SAP SuccessFactors. This lets you track if the latest employee changes in SAP SuccessFactors are already replicated to your SAP system or not.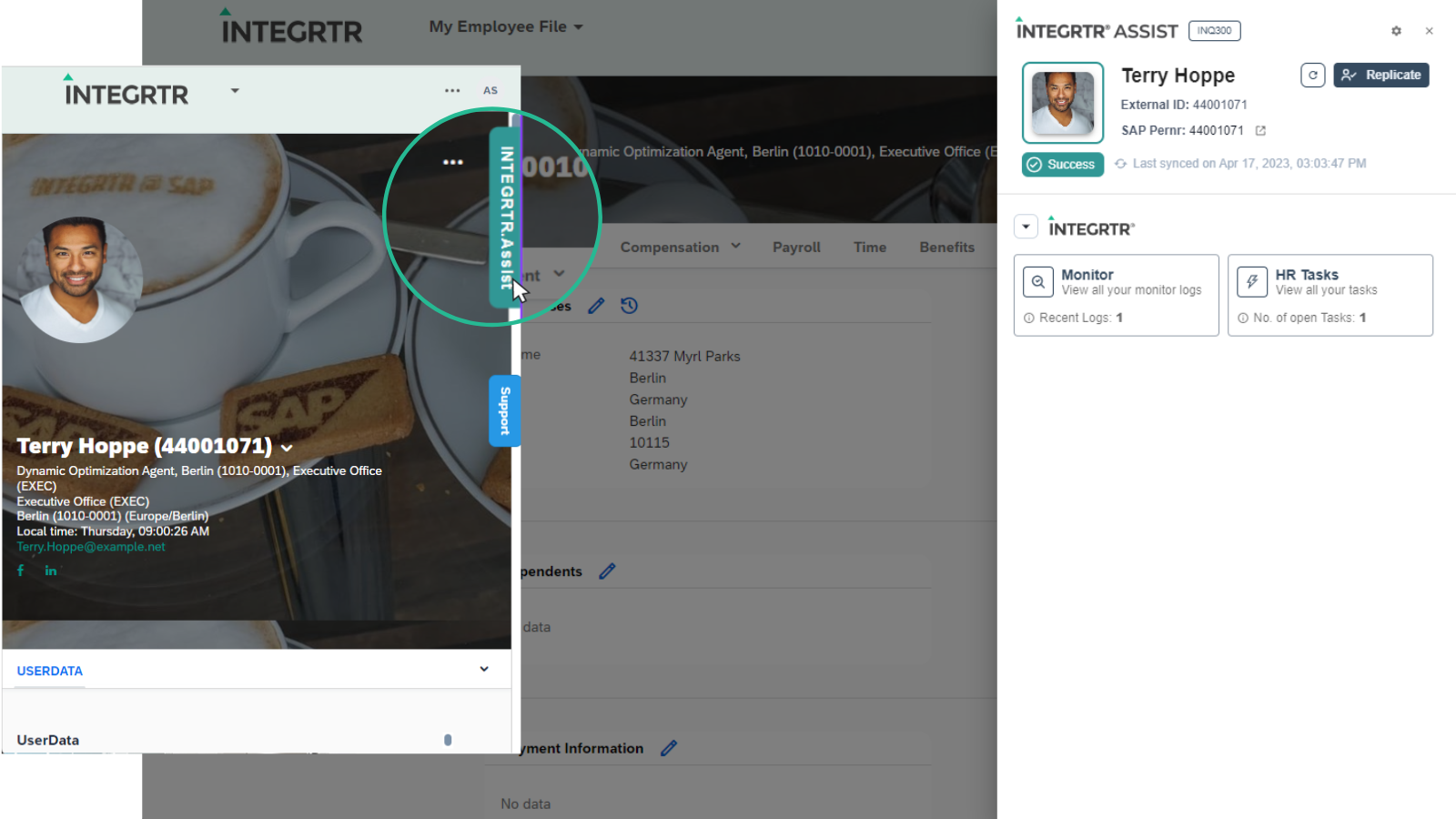 Contextual information in your Cloud HXM Solution
INTEGRTR-Assist works within the context of your SAP SuccessFactors systems and provides the relevant information on-demand on a simple click.
A Hybrid Working Environment
Enterprises digitizing their HR with SAP SuccessFactors or other HR cloud systems, are no strange to thevarious integrations that run in and out fulfilling key business processes like Hire to Pay. However not all applications can be easily integrated or it is difficult to position the needed information in the context of the current process or requirement.
INTEGRTR.assist takes a business serving approach, by providing additional information in context of your current SuccessFactors working screen, to provide full transparency or options, to continue and complete your workflow in a 3rd party system, guiding your right to the next logical step in the process.
Quick
Saves time spent on completing hybrid HR processes
Blended Hybrid experience.
Perform most relevant SAP HR tasks contextually from within SAP SuccessFactors UX
Save Business As Usual costs
Smoother HR processes and easy monitoring increase productivity with less errors
The more efficient digitization and data flow, the higher the business value and competitiveness.
Upgrade your enterprise integration